I think my very favourite part of Stoke Park is the orchard, which lies on the south eastern flank of Purdown, in the south of the estate. As you step out from the shade behind the wall that separates Stoke Park from Sir John's Lane, the morning sun hits you full on, illuminating amazing landscape in front of you and filling you with joy.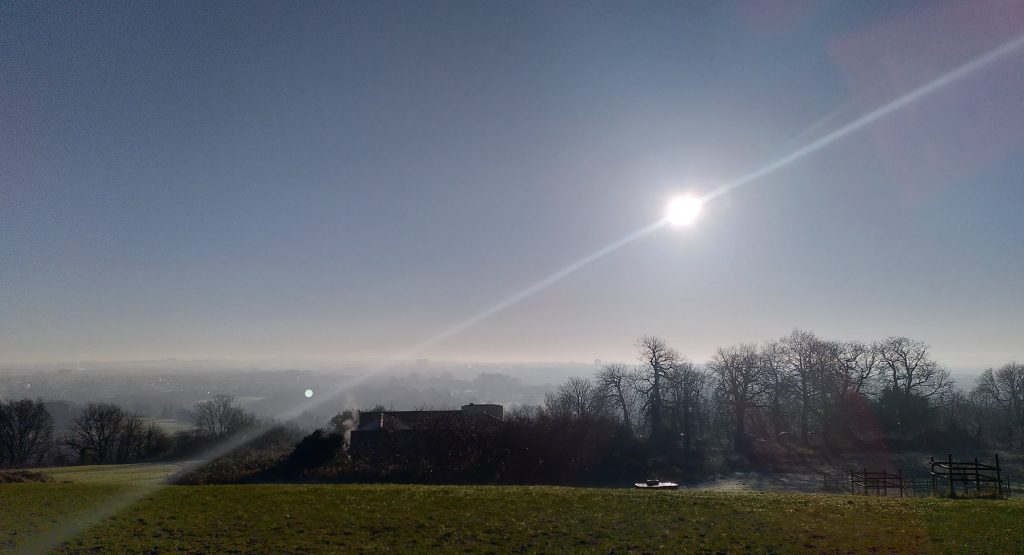 And so it was on a Thursday in January. Blue skies, the mist hanging in the valley below, and a morning of orchard pruning, one of the more sedate, calming and thoughtful activities that I've taken part in as a volunteer at Stoke Park.
The orchard comprises 210 trees in total, with the majority of these being apple and pears. And it turns out that to make sure these trees thrive and become a productive community orchard, quite a lot of management and maintenance is needed.
This includes pruning, with pip fruit – the apples and pears – needing pruning in winter. Along to provide training was Jack McCrickard, tree and woodland officer for the Forest of Avon Trust, and orchard enthusiast. Jack provided tools and guidance to make sure that we set these trees up for success. This includes taking out any damaged or diseased wood, considering the shape of the tree to encourage outward growth (in the manner of the spokes of a bicycle wheel), using secateurs or a pruning saw to make a carefully placed, clean cut, and not taking out more than 20% of the tree in a year.
The benefit of pruning, as we learnt, is to help create the most opportune shape for the tree, both in terms of its ability to produce high quality fruit, and to allow the tree to be accessible to the right audiences, such as the local community (and inaccessible to the wrong ones, such as deer or cows). Taking out branches means that light can reach more parts of the tree, allowing fruit to develop across the whole tree rather than just in the upper branches. It also means that any damaged or diseased wood can be removed to make sure it has no long-term negative effect on the tree.
As well as the apple and pear trees in the orchard, there are quite a few stone fruit trees, including plum and damson. Unlike the pip fruit, these need to be pruned in the springtime. The idea of another day spent in the sunshine considering the best shape for an orchard tree is a pretty satisfying one!
To get involved in managing and maintaining the orchard in Stoke Park please sign up as a volunteer.
Find out more about the work of the Forest of Avon Trust and their upcoming events.